In 2023, I decided to partner up with Mitch from Zero Waste Bulk Foods – a small business that specialises in UK-wide delivery of quality ingredients, all in reusable packaging that you return to the store through pre-paid post.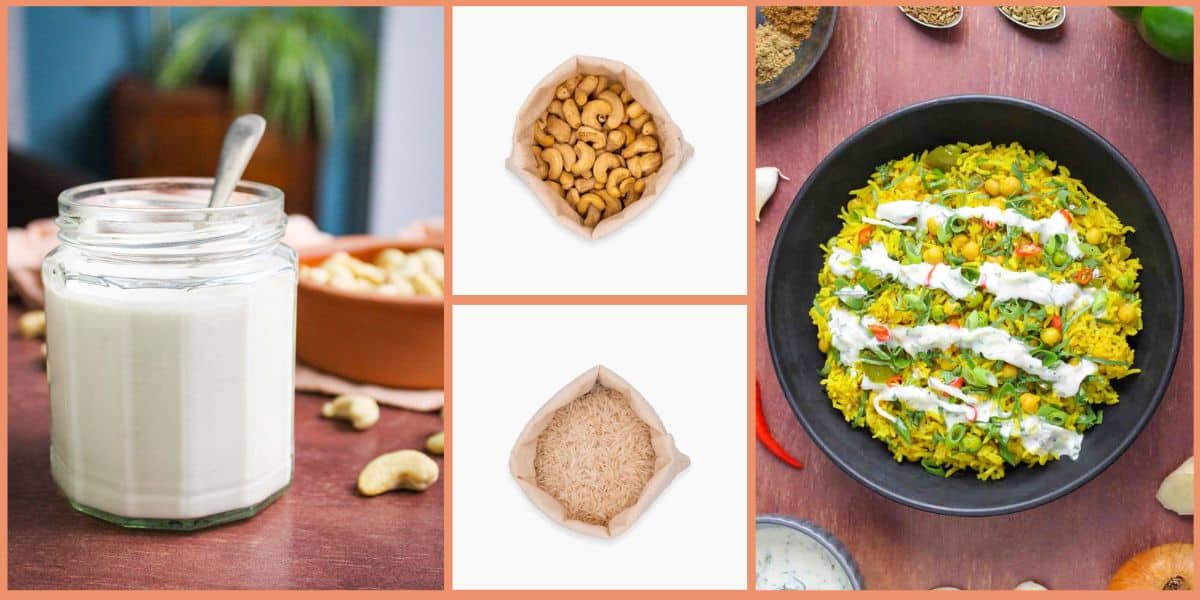 Here I explain a little more about how the partnership came about, what ZWBF specialises in, and how two small businesses with overlapping principles and goals are helping each other out while doing their bit for the planet.
This page contains affiliate links. I may earn a small commission from any purchases made.
Food shopping
If you're anything like me, you get your food and ingredients from a few different places.
Local supermarkets and larger superstores. Veg boxes and food markets. Specialist shops and independent businesses.
I use them all.
And if you're anything like me, you might find yourself trying to reduce unnecessary plastic, packaging, and waste wherever it feels possible to do so in your day-to-day life.
For me, it's a case of just trying to do my best and always being open to simple things that might help make a difference. I try to put healthy (vegan) food on the table and certainly don't worry about trying to be perfect – because none of us are.
Reducing waste
I'm originally from Scotland and live in Sheffield, England. It's a relatively big city (at least here in the UK), with lots of businesses offering the likes of bulk staple ingredients, organic ingredients, specialist foods, and anything you might class as sustainable / zero-waste / refill. I'll use all of these from time to time.
If you live in a place where you have easy access to similar shops, then great.
However, if you don't have easy access – or you simply don't have the time or inclination to make multiple trips to various places to pick up different things – an online delivery option is very handy. Better yet, an option that involves reusable packaging whereby its reuse is factored into each purchase by default as part of the business model.
Meet Mitch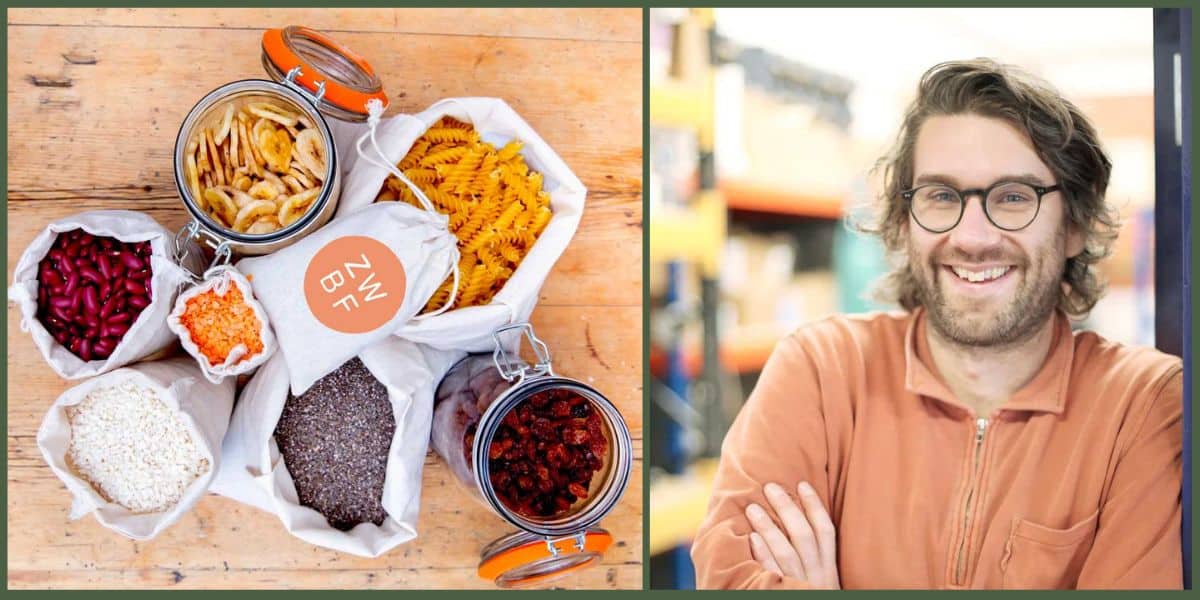 I always love to hear from people who get my emails and follow along with the blog (you can sign up if you haven't already), and a couple of months ago I received a message from this guy called Mitch.
Mitch owns a small business down south – Zero Waste Bulk Foods (affiliate link) – that aims to bring nutritious ingredients in reusable packaging to a wider UK audience. He'd been following along with the recipes for a while and was interested to see if there was some way we could collaborate since our businesses share several things in common.
We talked back and forth, had a few video calls, and after learning more about how he runs things, I decided that it made sense to partner up and point people in the direction of quality ingredients whenever they're called for in the recipes on my blog.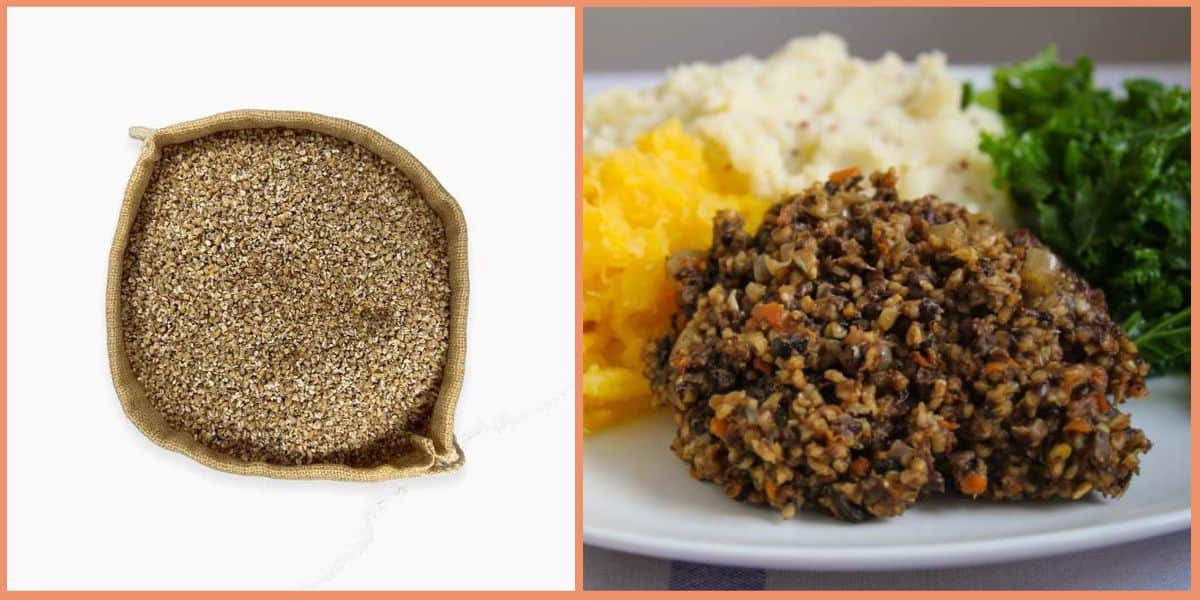 Pinhead oats (affiliate link) for vegan haggis.
What are bulk foods?
Bulk foods are items that are available in large quantities and, from an individual consumer perspective, usually those with a longer shelf life than fresh items such as fruits, vegetables, or other produce.
They include pantry staples like pulses, cereals, rice, pasta, nuts, seeds, herbs, spices, and flour, to name a few. Basically, anything you might store in a cupboard rather than the fridge or freezer.
Everyone will be familiar with these foods, but they're particularly relevant when it comes to plant-based diets and vegan cooking.
TPV + ZWBF
So, what does all this actually mean?
Basically, I'll be earning a small affiliate commission anytime someone places an order at Zero Waste Bulk Foods when visiting through a link on my website or in my emails. Examples of this would be ingredients such as:
Whatever it is, and however large the order (free delivery on orders over £60), you'll be directly supporting me and my work (and of course my annual charity donation).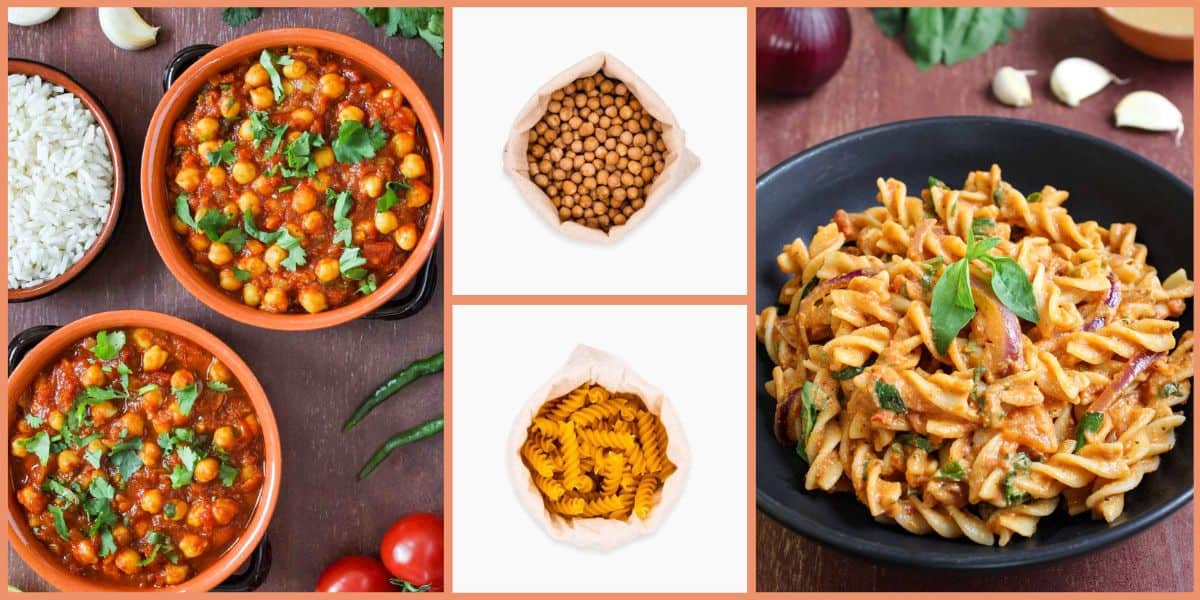 Left to right: British chickpeas (affiliate link) for chana masala; organic fusilli (affiliate link) for tomato tahini pasta.
The Pesky Vegan as a business
The Pesky Vegan is something that I've built in my evenings and weekends around a job and other commitments. I started it in 2019 to share recipes and useful info about going vegan, and never seriously considered that it might become a business at some point.
I've always thought of it as more of a helpful service for readers, and still do.
In fact, I was choosing to run the whole thing at a loss for a couple of years until deciding to apply for an ad network to help cover the cost of overheads (web hosting, themes, plugins, software subscriptions, various tools, etc.).
This has since helped me to also go part-time in my main job, which allows me to spend more time on the blog and more time with our young daughter – something I'm very grateful for.
At the end of the day, what I'm really growing is an honest and transparent relationship with readers who share my interest in trying to bring about positive change in the world.
Affiliate marketing
Many bloggers and content creators out there are making money in all sorts of ways beyond digital advertising. One of those is affiliate marketing, whereby they can earn commissions by promoting third-party goods or services through links in their own content.
Some people promote things they genuinely love and use themselves. Others will unscrupulously promote anything and everything that comes their way in the hope that they can make a quick bit of cash.
In my case, I've avoided it altogether up until now. I'm in this for the long run, trying to grow the blog slowly as a business, and I have no interest in trying to sell random things on behalf of others just to accelerate that growth.
For me to promote something to my own audience, it needs be the right kind of thing and it needs to feel like a good fit. For me, the relationship with Zero Waste Bulk Foods (affiliate link) ticks both of those boxes.
In fact, Mitch has even sent me free samples to show how the whole process works – I've got to say I'm a fan and I hope more and more people will get to experience it as well.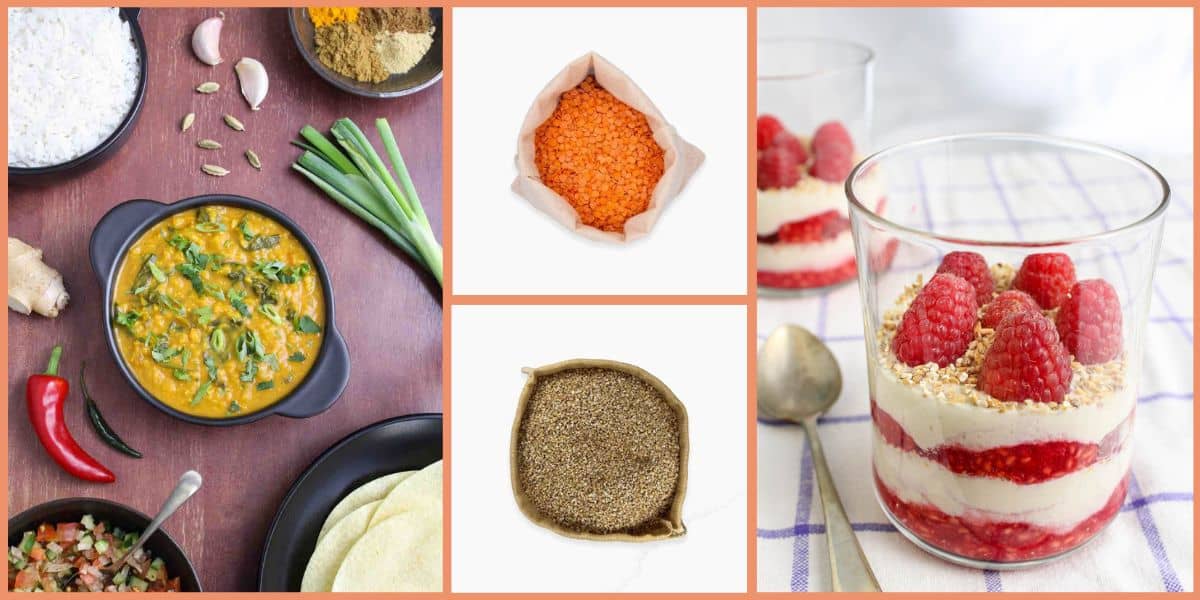 Left to right: Red lentils (affiliate link) for lentil dal; pinhead oats (affiliate link) for vegan cranachan.
Important
It's very important to me that people don't feel alienated by this partnership. The blog is – and always will be – about providing vegan recipes for everyone.
We all do what we can, and I support anyone who's trying to cook more plant-based meals but maybe doesn't have the financial means (or mental bandwidth) to also worry about where they're getting their ingredients from or how much packaging is involved.
I'm also aware that ZWBF only delivers within the UK, which automatically limits the number of people among my global audience who might find it useful. (I should point out that they use Royal Mail for delivery, as the only courier who employ staff.)
From my point of view, it just makes sense to promote another small business specialising in many of the ingredients I already use in my recipes and that people will already be sourcing from somewhere.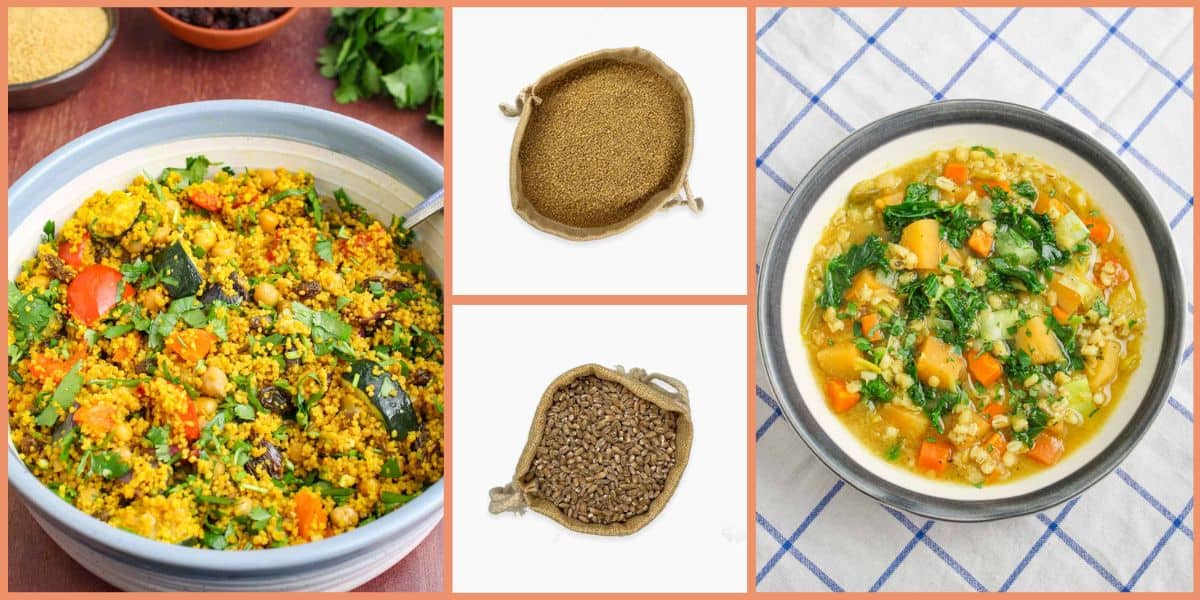 Left to right: Organic couscous (affiliate link) for Moroccan couscous; British pearl barley (affiliate link) for Scotch broth.
More about Zero Waste Bulk Foods
If you're interested, head over to Zero Waste Bulk Foods (affiliate link) and start exploring the full range.
You can also learn more about how it all works and the shipping policy, which includes carbon-neutral delivery within the M25 and even personal delivery by bike if you live close enough to ZWBF HQ. 🚴
Not bad, eh?
Take care. Eat plants.
TPV 🌱
Social follow
🌱 Follow along @thepeskyvegan on Instagram, Pinterest, and Facebook.
Further reading
📩 Fancy keeping in touch? Subscribe to my weekly newsletter.
📖 Find out more about my story.
🍽️ Want to get straight to the food? Hop aboard the recipe train.
🌿 Got a question about veganism? You might find the answer in these vegan FAQs.