Got a question about veganism? You've come to the right place. This vegan FAQ page aims to provide helpful answers to the most frequently asked questions on the subject.
If you have a question that isn't answered below, try taking a look through my blog, using the website search bar, or leaving me a comment. There's a chance I'm already working on a blog post that provides an answer to your question, but don't be afraid to ask!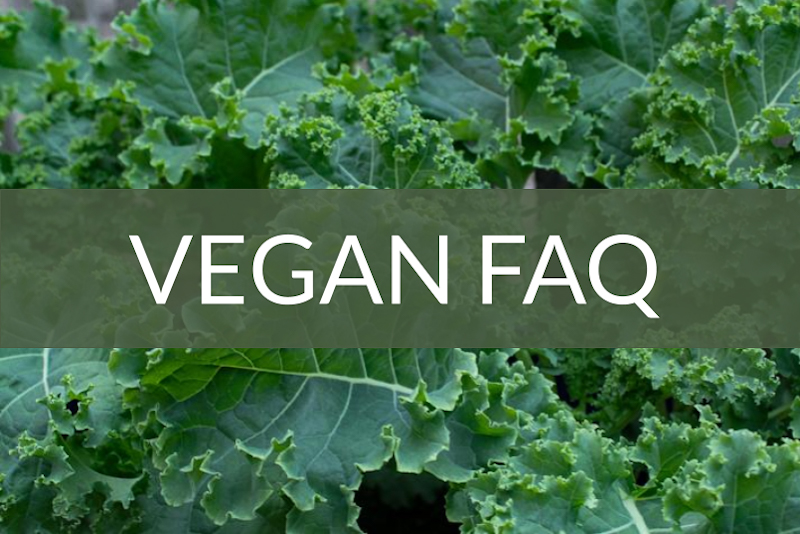 Frequently Asked Questions
(Click to jump to section)
What does 'vegan' mean?
"Veganism is a way of living that seeks to exclude, as far as possible and practicable, all forms of exploitation of, and cruelty to, animals for food, clothing, or any other purpose."
- The Vegan Society
Why do people go vegan?
There are numerous reasons why people go vegan, however the vast majority of us enter the vegan world through one of three main gates – animal welfare, the environment, and personal health.
And while veganism alone may not solve all the world's problems, it really is a great place to start. You can reduce animal suffering, do good for the planet, enjoy cooking, and eat well all at the same time.
Read more about why people go vegan.
What's the difference between vegans and vegetarians?
While both of these groups exclude meat and fish from their diets, the difference is that vegetarians usually still consume eggs and dairy products such as milk, cheese, butter and yoghurt.
You may think there's nothing wrong with those things – and that vegans are 'extreme' to cut them out – but the reality is that the egg and dairy industries are just as problematic as the ones producing meat and fish.
Learn more about the egg and dairy industries.
What do vegans eat?
Absolutely loads of stuff. There's a misconception that vegans only eat 'vegetables', but the better way to think of it is that vegans eat plants. Once you do that, you realise that this means potatoes, rice, pasta, bread, lentils, chickpeas, beans, soy, grains, seeds, nuts, fruits, oils, and vegetables, among others.
These days it's also easy to find and create convincing substitutes for many animal products, so you don't have to worry about missing out on anything if you're new to veganism or thinking about giving it a try. From sausages and burgers to steak, chicken, and cheese, there's a way to veganise everything.
If you're looking for inspiration, check out these vegan meal ideas or browse the categories in my recipe index.
I create a new recipe and new blog post every single week. Subscribe here to keep in touch and get a free download of The Vegan Kitchen – My Top 10 Tips.
Isn't it difficult being vegan?
Do you know what I realised when I first tried out a vegan diet? I was already about 80% vegan – and always had been. Porridge for breakfast. Wraps for lunch. Mashed potatoes and roasted veg. Chips and mushy peas. Rice. Pasta. Corn. Toast. Jam. Crisps. Nuts. Soup. Juice. Cereal. Bananas. Apples. Carrots. Broccoli. Tomatoes.
Most of a pizza. Most of a stir fry. Baked potatoes, baked beans, and freshly baked bread. Chips after a night out. Hash browns the morning after. Throwing a meal together with whatever I happened to have in my fridge and cupboards that, when I really think about it, was probably around 80% vegan.
Vegan food is for everyone. Because everyone is already eating it.
If you're looking to get started, I'd recommend checking out Vegan Kitchen Essentials: Easy Tips for Beginners. This is a great post full of tips and tricks from a whole host of vegan bloggers (including yours truly).
Can you get everything you need from a vegan diet?
You sure can – and then some. When done correctly, a vegan diet is healthy and nutritionally complete for all stages of life.
And the good news is it's easy. Just be sure to mix things up, eat a variety of different plant-based foods, and you'll be well on your way to giving your body everything it needs.
But also bear in mind that you can be vegan by consuming nothing but chips, frozen meals, straight vodka, and smoking 40 cigarettes a day. Likewise, the average meat-eater will be unhealthy in the long run if they neglect their grains, fruit, and veg.
Diets are always more complex than the simple labels describing them. Going vegan is a great opportunity to learn more about nutrition and how our bodies work – it was certainly an eye-opener for me.
If you have any allergies, special requirements, or concerns about health or nutrition on a plant-based diet, it is recommended to consult a doctor or dietitian. You can also check out these resources from the NHS, NCBI, and The Vegan Society.
Where do vegans get their protein from?
Ah, protein. We seem to have developed a modern obsession with it, and people often assume that a diet without meat equals a diet lacking in protein. But this couldn't be further from the truth, as protein is found in all plants.
You heard that right. From beans, lentils, nuts, and soya, to spinach, broccoli, peas, and grains, it really is in everything. Not only are these sources of protein versatile and delicious – they're good for you, other animals, and the planet.
Provided you eat a varied diet, it's virtually impossible to miss out on protein with plant-based food. You can find out more here.
What about B12?
Vitamin B12 is an essential nutrient for humans and other animals, made exclusively by microorganisms living in soil and water. It is not produced directly by animals, but since animal products tend to be high in B12, it is often cited as a key vitamin that vegans may be deficient in.
Our ancestors would get their B12 supply from bacteria on vegetables pulled from the ground, by drinking water from natural sources, as well as from any meat they happened to consume (since those animals also ingested bacteria from soil and water). However, modern crop sanitation and water decontamination methods mean that B12 is no longer as naturally abundant for us.
Vegans – as well as many non-vegans – therefore need to look at other sources. While some foods are fortified with B12 (cereals, plant-based milks, some soya products, nutritional yeast), it is still recommended that vegans include a B12 supplement in their diets just to be on the safe side. This is very easy to get hold of and can be taken in various doses – daily, weekly, etc.
Learn more about vitamin B12.
Do I need to be a good cook to go vegan?
Absolutely not. Going vegan is easier than ever before, with microwave meals and frozen food that you can throw in the oven. Not to mention the rapid increase in plant-based options available in restaurants, cafes, takeaways, and fast-food chains.
But cooking is something that's worth getting good at. You'll save money, have far more control over what you consume, and be healthier as a result. It really is one of life's most valuable skills.
I create a new recipe and new blog post every single week. Subscribe here to keep in touch and get a free download of The Vegan Kitchen – My Top 10 Tips.
Is a vegan diet expensive?
Like any diet, it's as expensive as you want it to be. But veganism is definitely suited to the cash-strapped among us.
Here in the UK, staples such as grains (rice, bread, pasta, oats, quinoa) and legumes (beans, peas, chickpeas, lentils, soybeans) are not only extremely affordable, but widely available. As for fruit and veg, these should be a part of everyone's diet – whether vegan or not – and so the cost is the same for anyone.
There's also been an explosion of plant-based products on the market in recent years, making it easier than ever to enjoy the things you did as an omnivore without breaking the bank.
Do vegans drink alcohol?
Hell. Yes.
(If they want to, of course.)
The reason why some alcohol may not be vegan-friendly is down to the filtering processes. Manufacturers sometimes use isinglass (a substance obtained from the swim bladders of fish), gelatine, egg whites, and other animal by-products to capture impurities. This is the case with many beers and wines, for example.
Spirits are generally fine, and so in my experience it just comes down to a bit of research for beers and wines. The ever-growing directory from Barnivore is a handy place to check.
Side note: it took me well over a year to think about what I was drinking as well as what I was eating. Going vegan is a journey involving many stages, so my advice would be to not worry about the details of beers and wines when starting out. And if you don't drink, then you're all good anyway.
A more in-depth post about vegan alcohol is coming soon…
What is a Pesky Vegan?
I'm so glad you asked. Find out.