If you're new to the world of plant-based eating, you're probably wondering what vegans consume and how they keep their food interesting. From breakfast, lunch, and dinner, to snacks in between, the vegan meal ideas below should help you find some much-needed inspiration.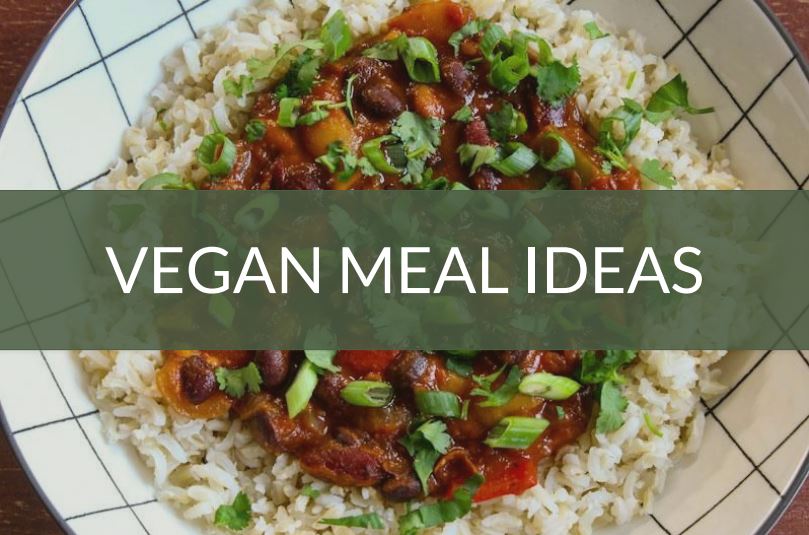 To any new vegans in the room: just remember that most of what you ate before was already plant-based. From bread, rice, and dried pasta, to potatoes, veg, legumes, and all the other plant foods – making meals vegan really is easy.
The list of vegan meal ideas below is in no way exhaustive, but hopefully it'll get you thinking more creatively about your food. Enjoy!
I create new content every single week. Subscribe to keep in touch and get a free download of The Vegan Kitchen – My Top 10 Tips.
What do vegans eat for breakfast?
During the week, I'll usually just have a banana for breakfast. Not the most exciting meal of the day, but it sees me through to lunch. For those who need a bit more energy in the mornings, you could also try these:
Porridge
Cereal and plant-based milk (just be sure to check the cereal ingredients)
Toast and plant-based margarine/jam/peanut butter/hummus (yes, a lot of bread is vegan)
Overnight oats
Overnight chia seed pudding
For me, weekends are a great time to spend a bit longer on a cooked breakfast. This could be anything from vegan pancakes, waffles, or muffins, to scrambled tofu on toast or a full brunch including plant-based sausages (of which there are LOADS to choose from these days), hash browns, mushrooms, grilled tomatoes, and beans.
What do vegans eat for lunch?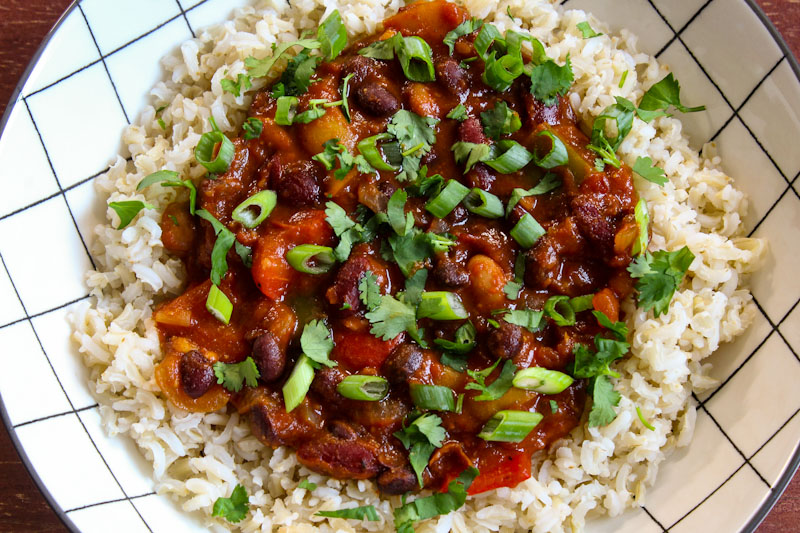 I work normal office hours and so have established a fairly regular pattern when it comes to lunches.
Mon-Thurs it's leftovers or food that I've batch-cooked in advance (such as dal or chilli with rice, spaghetti bolognese, or other pasta dishes). Then on Friday I'm usually off to my favourite falafel place around the corner.
I'm a big fan of prepping food that I can reheat down the line, but here are a few other ideas (just check the ingredients on any shop-bought items):
Wraps (e.g. falafel, hummus, and tomatoes)
Sandwiches (e.g. vegan pesto, grilled peppers, and salad leaves)
Pasta salads
Couscous salads
Jacket potato and beans
Soup and bread/sandwich
Instant noodle pots (I've seen quite a few that are vegan)
What do vegans eat for dinner?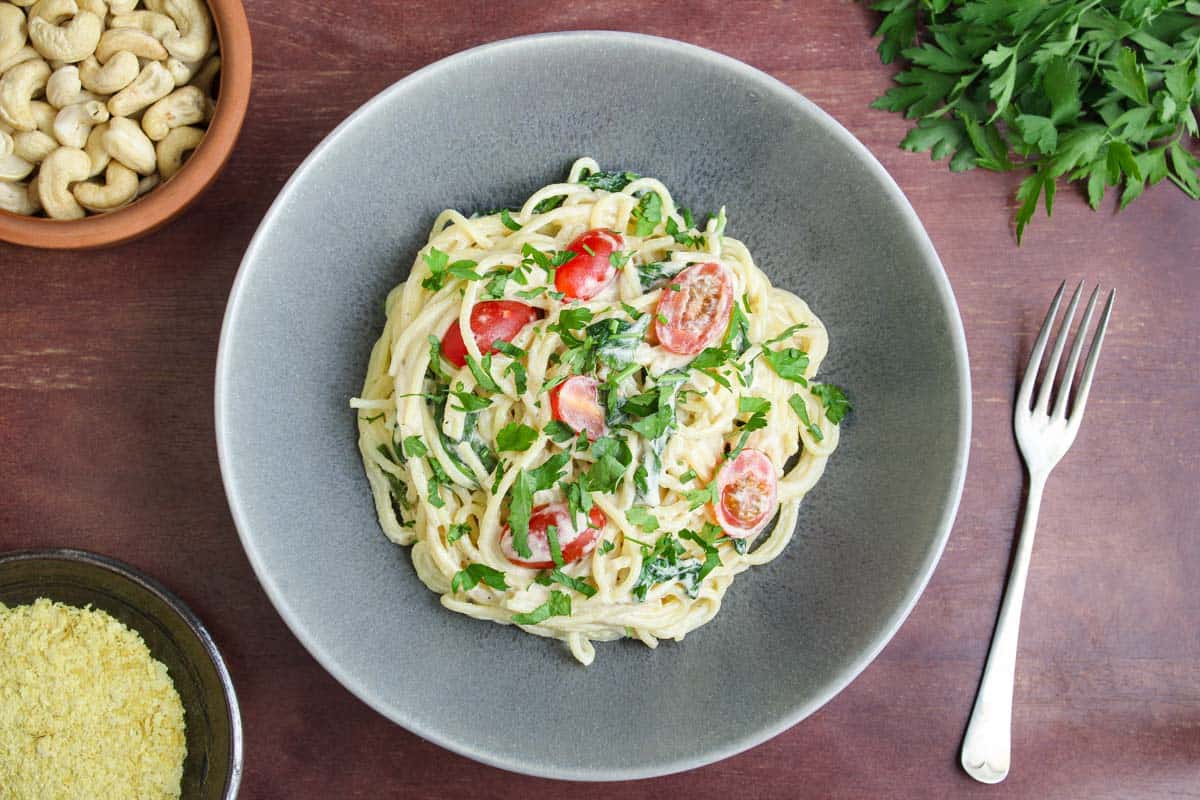 Even as someone who loves cooking, I still struggle to find the time to make entire meals from scratch every single day.
One or two nights a week, I'll inevitably just throw something in the oven for dinner. It may not be very glamorous, but it gets the job done.
Most of the time I do cook, however, so here are some examples of vegan meal ideas you can try out:
Chilli and baked potato
Risotto
Lentil dal and rice
Pitta bread pizzas
Lentil cottage pie
Thai curry with veg/tofu
Quinoa bowls
Falafel wraps
Jackfruit burritos
Sausage, mash, and onion gravy
Burger and chips
If you really are short on time or energy, you can always turn to the plant-based ready meals available in supermarkets these days. Even in the two years since I first tried Veganuary, the amount of vegan choices has exploded.
What about vegan snacks?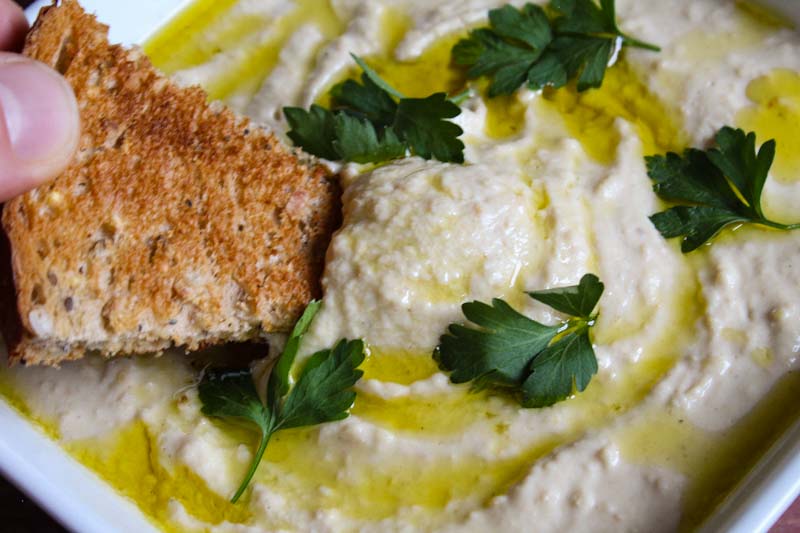 Going vegan doesn't automatically mean you'll be healthy, however it may help you cut down on fatty foods such as biscuits, cakes, crisps, and chocolate since a lot of those contain animal products.
Saying that, there's a growing number of plant-based options available, as well as quite a few 'accidentally' vegan products (take some brands of 'bacon rasher' style crisps, for example). The age-old advice is to enjoy everything in moderation.
Below is a list of slightly healthier snacks to be enjoyed alongside all the delicious crap:
Fresh fruit (bananas, apples, oranges etc.)
Dried fruit
Mixed nuts/seeds
Plant-based yoghurt
Oatcakes (+ whatever topping you like)
Rice cakes (+ whatever topping you like)
Hummus (e.g. with carrot sticks, celery, pitta bread - you can even make your own)
Toast (e.g. with plant-based margarine/jam/peanut butter/hummus)
Got any questions?
This website is all about trying to help people just like you as they explore the world of veganism. If you have any questions, suggestions, or feedback, please feel free to let me know down below in the comments.
Social follow
🌱 Follow along @thepeskyvegan on Instagram, Pinterest, and Facebook.
Further reading
📩 Fancy keeping in touch? Subscribe to my weekly newsletter.
📖 Find out more about my story.
🍽️ Want to get straight to the food? Hop aboard the recipe train.
🌿 Got a question about veganism? You might find the answer in these vegan FAQs.
For more help with plant-based nutrition, I'd also suggest checking out Dr Greger's Daily Dozen Checklist.