If you're one of those people who thinks tofu is completely devoid of flavour or texture, you'd be absolutely correct. But this crispy tofu stir-fry changes things.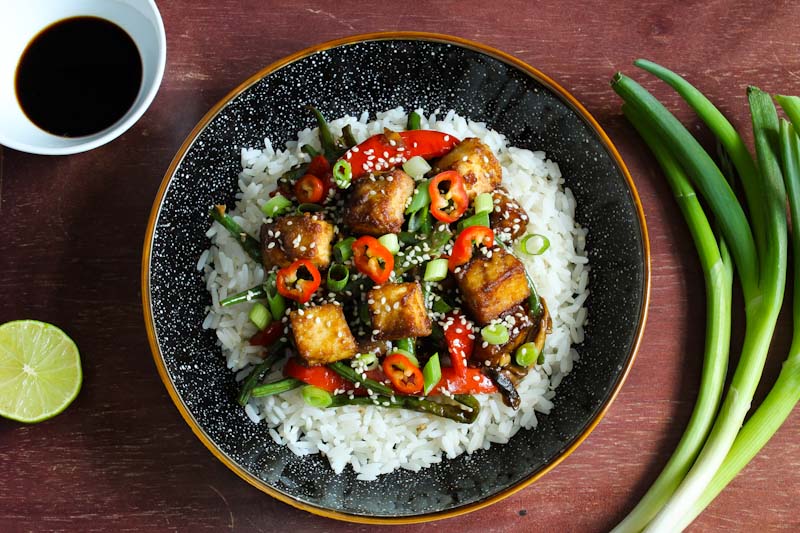 Instead of sinking your teeth through a blobby cube of gelatinous sponge, you'll have bite, crunch, and taste in abundance. Better yet, you can get all those things without having to deep-fry the stuff to within an inch of its life.
In the mood for crispy tofu stir-fry? C'mon then, let's go for a wok.
I create new content every single week. Subscribe to keep in touch and get a free download of The Vegan Kitchen – My Top 10 Tips.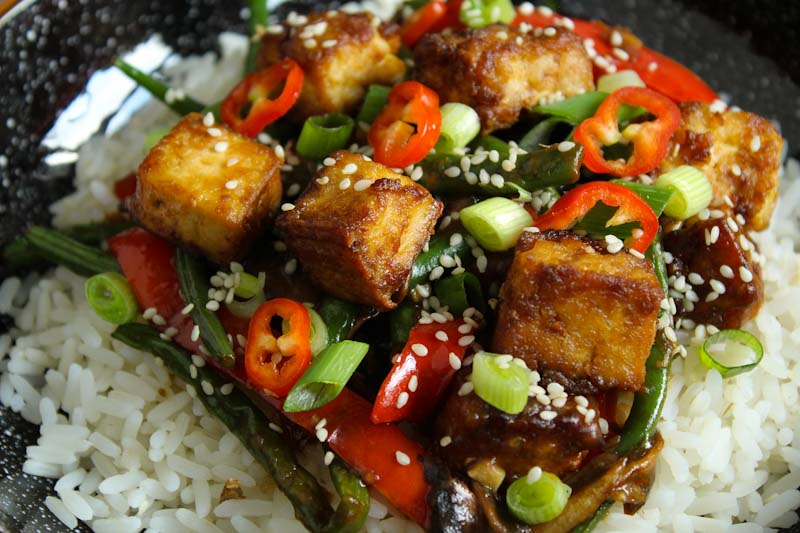 What is tofu?
Tofu is a bean curd made from soy milk. High in protein, low in fat, and available in varying degrees of firmness, it has been a staple of Asian cuisine for centuries.
You'll also find tofu in my recipes for vegan fish pie, smoked tofu risotto, and tofu jalfrezi curry, to name a few.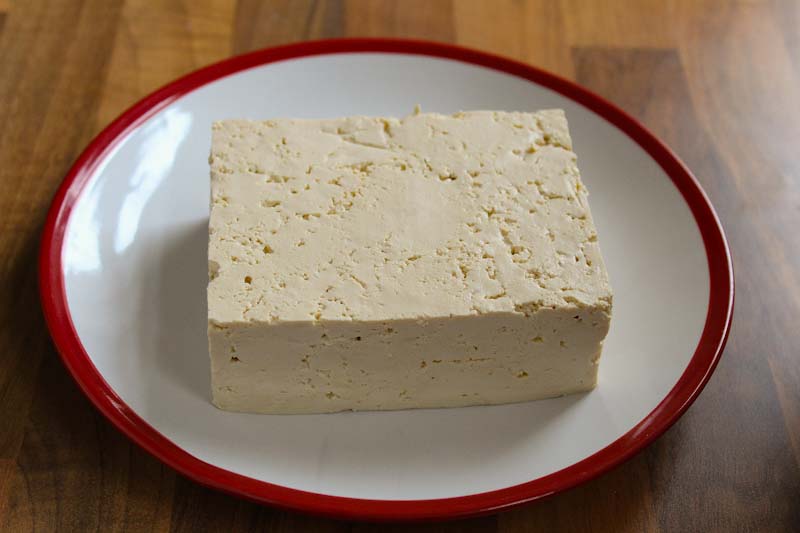 How to make tofu crispy
To make this crispy tofu, you need to drain it, coat it, and cook it in the oven at a decent temperature. You could also fry the tofu in copious amounts of oil, but baking is much healthier.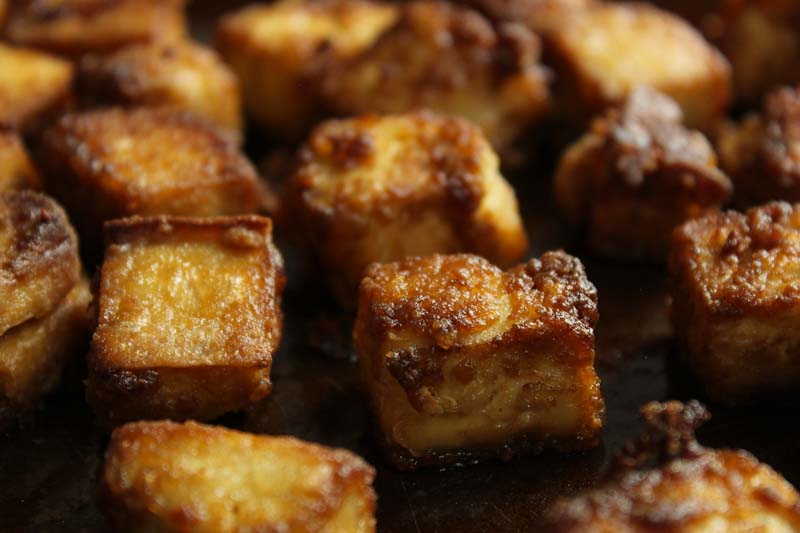 How to drain tofu
Depending on the type of tofu you're using, it may need to be drained and pressed to remove the extra water. In this recipe I've used the Cauldron brand.
In some other recipes, I'll recommend freezing and defrosting as a method to get the water out of the tofu. But in this case, it's fine to just drain it and then press it between two plates.
Place the block of tofu between a larger plate and a smaller plate.
Over a sink, press the plates together to squeeze out the water. Do this for a minute or two.
The idea is to not break it apart when pressing, but don't worry if the odd bit falls off.
Once there's no more water coming out, pat dry with kitchen roll and then it's ready to chop up.
Making a stir-fry at home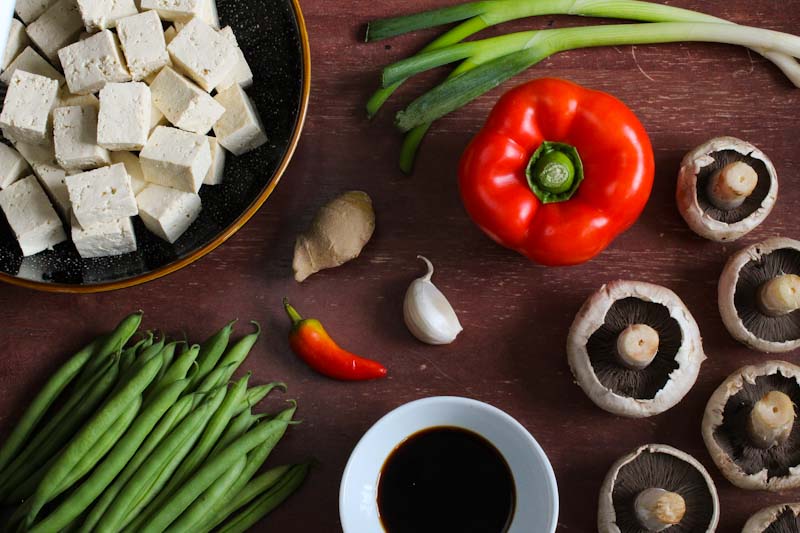 In this recipe, I've provided instructions on how to make a basic stir-fry sauce. If you don't have time to make it yourself, feel free to just use a store-bought sauce and mix it through towards the end.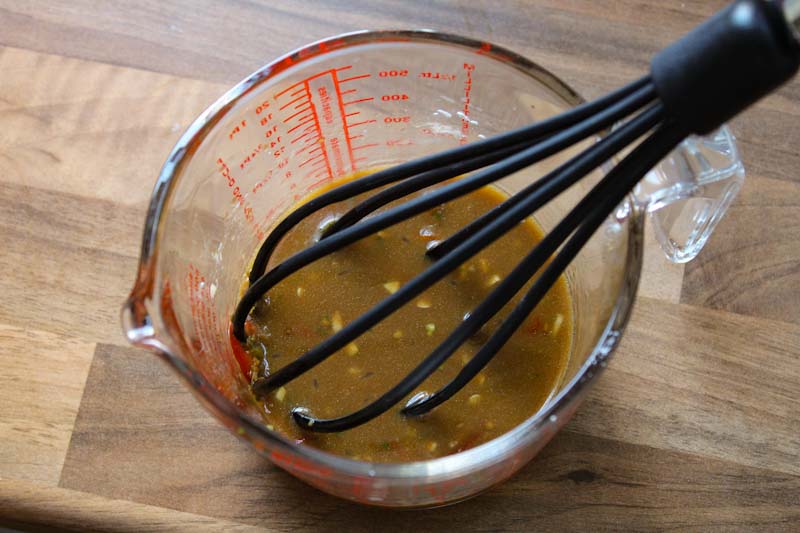 If you are making the sauce, it's a simple case of whisking all the ingredients together and adding to the pan for the last couple of minutes of cooking time.
The veg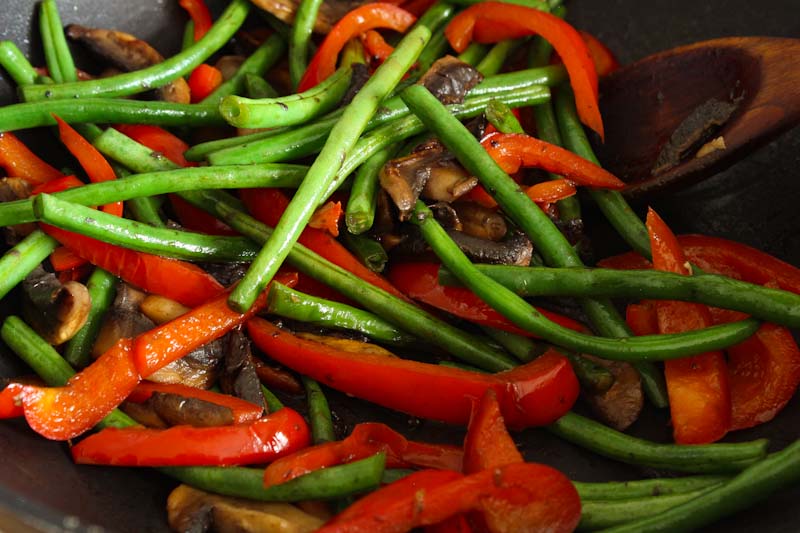 The key to a good stir-fry is cooking everything quickly on a high heat, and so you'll want to cut all the veg to roughly the same size. Here I've used mushrooms, red peppers, and green beans, but you could use any veg you like.
Keep in touch
Subscribe below to receive a weekly newsletter with my latest recipes. Nice and simple. No pesky pestering. No spam (which wouldn't be very vegan anyway).
More vegan recipe ideas
If you liked this recipe, you may also enjoy:
You can also check out my full list of vegan mains.
Full recipe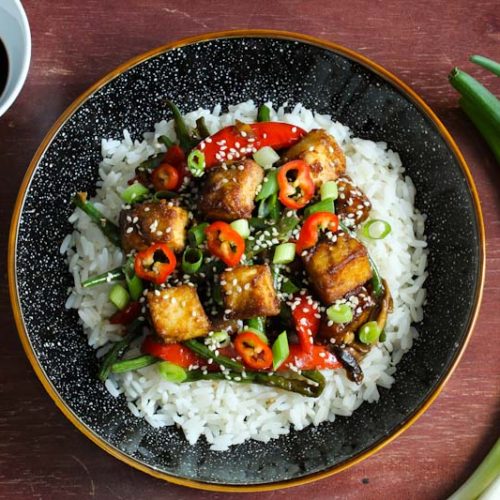 Crispy Tofu Stir-Fry (Vegan + Gluten-Free)
If you're one of those people who thinks tofu is completely devoid of flavour or texture, you'd be absolutely correct. But this crispy tofu stir-fry changes things.
Ingredients
For the crispy tofu
200-300

g

firm tofu, drained and pressed

1

tablespoon

tamari or soy sauce

(see recipe notes)

1

tablespoon

vegetable or olive oil

1

teaspoon

garlic powder

4

tablespoons

cornflour

(or arrowroot)
For the sauce
1

large clove

garlic, finely chopped

1 inch

piece of ginger, finely chopped or grated

1

red chilli, finely sliced

(I include the seeds, but remove if you don't like any heat)

Zest and juice of 1 lime

2

tablespoons

tamari or soy sauce

(plus more if necessary – see recipe notes)

1

tablespoon

sesame oil

1-2

tablespoons

water

2

tablespoons

cornflour

(or arrowroot)
For the stir-fry
1

tablespoon

cooking oil

(coconut oil is great if you have it)

1

red pepper, finely sliced

200

g

green beans, trimmed

200

g

mushrooms, finely sliced

Rice or rice noodles, cooked to package instructions

Sliced spring onions and sesame seeds to serve
Instructions
Crispy tofu
Preheat the oven to 200°C (400°F).

To drain the tofu, place it between a larger plate and a smaller plate and press over a sink for 1-2 minutes. Once the water has stopped coming out, pat dry with kitchen roll and transfer to a chopping board.

Slice the tofu lengthways so you have two slabs, then cut each slab into 4x4 cubes. This will give you a total of 32 cubes.

In a large mixing bowl, combine the tamari/soy sauce (1 tablespoon), oil (1 tablespoon), and garlic powder. Add the tofu and gently coat it in the mix.

Next, add the cornflour (4 tablespoons) a little at a time and turn the tofu pieces so that they're evenly coated.

Add a little oil to an oven dish and spread the tofu pieces out across it. Bake for 30 minutes, turning half-way through. If the tofu sticks, add a little more oil and turn down the heat slightly.
Sauce
Add all of the sauce ingredients to a measuring jug or bowl. Whisk and set aside.
Stir-fry
If you're cooking rice, remember to get that going at some point depending on its cooking time.

Heat a pan or wok on a high heat and add the oil. Once hot, add in the veg and stir/toss frequently for 6-7 minutes.

After 6-7 minutes, add in the stir-fry sauce and mix well. If necessary, adjust the seasoning by adding a little more tamari or soy sauce.

Once the stir-fry is done, turn off heat. Remove the tofu from the oven. Stir through half of the tofu and save the other half for serving on top.

Serve with rice, sliced spring onions, sesame seeds, and a drizzle of tamari/soy sauce.
Rate this recipe 👇
Notes
Use pastes: The garlic, ginger, and chilli in the sauce can all be substituted with pureed equivalents, which are widely available in supermarkets these days.
Soy sauce: The saltiness of the final dish will depend on the type of soy sauce you use and whether you mix the stir-fry through boiled rice (therefore balancing out the flavours). To be on the safe side, be sure to use a reduced-sodium soy sauce and start small with the amounts in the sauce – you can always add more during cooking or when serving.
Gluten-free: Tamari is a variant of soy sauce that's usually gluten-free. If this recipe needs to be 100% gluten-free, make sure you use a GF soy sauce or tamari. 
If you liked this recipe, you might also enjoy:
* The nutrition info below is for one serving of the crispy tofu, veg, and stir-fry sauce. 
Nutrition
Calories:
473
kcal
Carbohydrates:
44
g
Protein:
19
g
Fat:
21
g
Saturated Fat:
7
g
Sodium:
2035
mg
Potassium:
842
mg
Fiber:
7
g
Sugar:
10
g
Vitamin A:
2767
IU
Vitamin C:
123
mg
Calcium:
167
mg
Iron:
4
mg
Nutrition Facts
Crispy Tofu Stir-Fry (Vegan + Gluten-Free)
Amount Per Serving
Calories 473
Calories from Fat 189
% Daily Value*
Fat 21g32%
Sodium 2035mg88%
Potassium 842mg24%
Carbohydrates 44g15%
Protein 19g38%
Vitamin A 2767IU55%
Vitamin C 123mg149%
Calcium 167mg17%
Iron 4mg22%
* Percent Daily Values are based on a 2000 calorie diet.
Did you make this recipe?
Leave a comment down below or tag me on Instagram @thepeskyvegan along with the hashtag #thepeskyvegan
Social follow
🌱 Follow along @thepeskyvegan on Instagram, Pinterest, and Facebook.
Further reading
📩 Fancy keeping in touch? Subscribe to my weekly newsletter.
📖 Find out more about my story.
🍽️ Want to get straight to the food? Hop aboard the recipe train.
🌿 Got a question about veganism? You might find the answer in these vegan FAQs.