If you're vegan, are thinking about going vegan, or know someone who is vegan, then the chances are you've heard about vitamin B12.
This essential vitamin is often cited as a key nutrient that vegans may be deficient in. However, there tends to be a lot of mystery and misinformation surrounding it.
Read on for answers to the most common B12 questions, as well as a list of references at the end for further reading/watching.
I create new content every single week. Subscribe to keep in touch and get a free download of The Vegan Kitchen – My Top 10 Tips.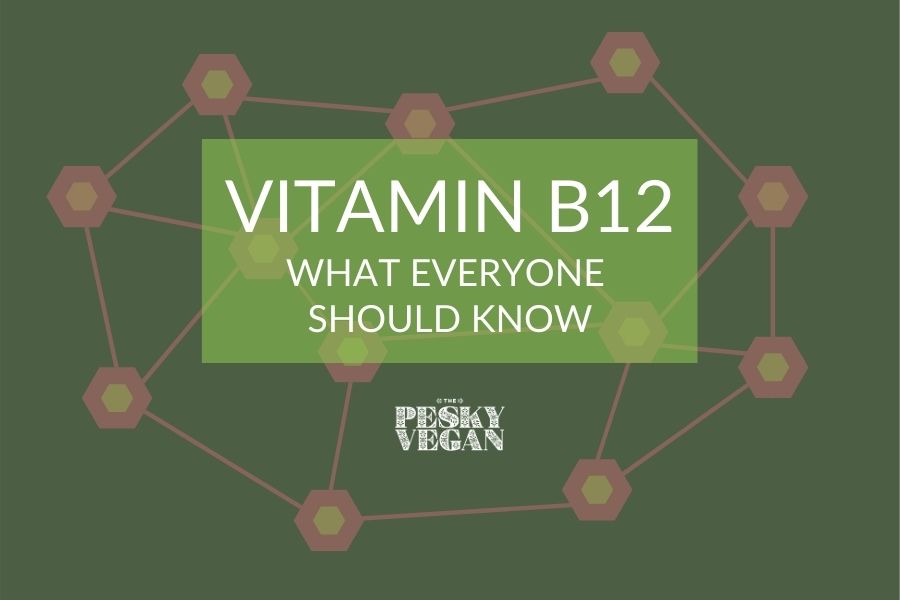 What is B12? 
Vitamin B12 is an essential nutrient for humans and other animals. Also known as cobalamin, it is involved in the metabolism of every cell of the human body and plays a crucial role in maintaining the health of our blood, bone marrow, and nervous systems.
B12 deficiency affects both vegans and non-vegans alike, and is something that we should all be aware of.
Where does B12 come from? 
B12 is made by microorganisms living in soil and water. Humans and other animals then absorb these microorganisms into their systems through the food they eat and the water they drink.
Our ancestors would get their B12 supply in the form of bacteria on root vegetables/tubers pulled from the ground, by drinking water from natural sources, as well as from any meat they happened to consume (since those animals also ingested bacteria from soil and water).
Other posts you might find interesting: 👀
B12 in the modern world 
The issue with modern B12 deficiency is to do with the modern sanitation methods used to wash our crops and decontaminate our water supplies. The veg we buy tends to get thoroughly scrubbed beforehand, and the water we drink is usually treated with chlorine.
While these practices are great for many other reasons – such as stopping the spread of water-borne diseases – it does mean that 'natural' sources of B12 are harder to come by than they were in the past.
Are vegans likely to be deficient in B12?  
Short answer: probably – over time – and if they don't take the proper dietary steps. But it's too easy to claim that only vegans will suffer from B12 deficiency because they don't consume animal products.
Someone eating meat and dairy three times a day can still encounter problems through a lack of B12 in their system, and I've personally met non-vegans who face this issue. The good news for most of us is that it's easy to make sure we get enough.
Where do vegans get B12 from? 
The best answer to this common question is simple: by taking a B12 supplement.
While some foods are fortified with vitamin B12 (cereals, plant-based milks, plant-based yoghurt, soya products, yeast extract, nutritional yeast), and it's possible to get the required amount through a carefully managed diet, it's much easier to play it safe and take a supplement.
A B12 supplement can come in the form of a tablet or spray, and is taken in various doses (daily/weekly). See the bottom of the page for more details.
Does this mean a vegan diet isn't natural? 
Here's the thing – most of the animals reared for human consumption are themselves supplemented with B12 (among many other additives).
Ruminant animals such as cows and sheep are capable of producing B12 through their gut bacteria, but only if there are sufficient levels of cobalt present in the soil where they graze. This is not always the case.
So if animals reared for human consumption are themselves supplemented with B12 – as well as all the other additives in their feed – why would it be any more 'natural' to consume meat or dairy from those animals than to just supplement it yourself?
It's always useful to take a step back and reconsider what we think 'natural' means.
Just take a look at all the medicines and vitamin pills we rely on these days, and suddenly it doesn't seem so strange to take one supplement that is essential for our well-being.
And finally... 
It's important to repeat that possible B12 deficiency is not just a vegan issue. It's something everyone should be aware of.
Just because you eat animal products does not mean that you're guaranteed to get enough of the vitamin. If you're concerned, it may be a good idea to have a blood test to check your levels.
In most cases, vitamin B12 is not something that adults suddenly need to worry about when switching to a plant-based diet, as it can take five years or more for deficiency symptoms to appear.
That being said, the leading advice is to just get into the habit of taking a supplement. And if that seems 'unnatural', it might be worth taking a closer look at everything else you're currently consuming.
Learn more about vitamin B12
To explore the subject of B12 in more detail and find out how to get the right supplements, check out the following:
> Dr Michael Greger's website and YouTube channel
> The NHS guide on B vitamins
> The WebMD page on Vitamin B12
> Dr Michael Klaper's Vitamin B12 Basics
Social follow
🌱 Follow along @thepeskyvegan on Instagram, Pinterest, and Facebook.
Further reading
📩 Fancy keeping in touch? Subscribe to my weekly newsletter.
📖 Find out more about my story.
🍽️ Want to get straight to the food? Hop aboard the recipe train.
🌿 Got a question about veganism? You might find the answer in these vegan FAQs.